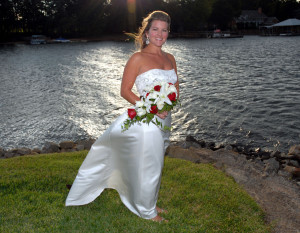 Wedding photography in bad weather may not always be a bad idea. As wedding photographers in Charlotte we understand in order to get the best wedding photos at times we have to shoot in not the best situations. Every wedding photographer hates rain maybe not more than the bride but it can become a problem to our wedding photography camera.
I thought about this today because one of my brides canceled her session for engagement photos in Charlotte this afternoon. The weather was calling for heavy rain so I agree and understand but I couldn't help but think when looking at the sky how beautiful it would have looked in their engagement photos not to mention wedding photos.
The thing is bad weather is not always a bad thing for wedding photography. During bad weather I have taken some of my best wedding photos in my career as a Charlotte wedding photographer in North Carolina. I'm not saying take pictures in the rain or thunder but right before it rains or right after the skies are so beautiful which shows in your wedding photography. For wedding photography in most types of weather visit www.bridalshoot.com North Carolina wedding photographers in Charlotte Bridal Shoot Photography.