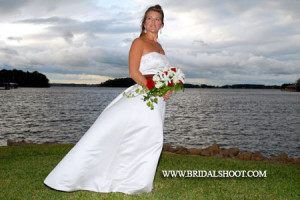 Charlotte Wedding Photographers | The wedding photo from yesterdays wedding photography post was from my seccond  best photo from that bridal shoot. The purpose I used it is as an example of wedding photos in bad weather. It was a great photo but today I also wanted to show one of the other photos from the same shoot. As wedding photographers in Charlotte we have our favorite wedding photos and this is one of my favorite wedding photos for so many years. Ths best part is the bridal shoot took place in her back yard.
For years as a wedding photographer in Charlotte I have been asked where did I take this wedding photo and was it photo shopped. As Charlotte wedding photographers in North Carolina I only show photos in their true form so the answer is it was not photo shopped.
As mentioned in the previous story the clouds and the sky look very beautiful after and prior to storms. The effect in the sky came from the weather which made this wedding photo come out so unique not to mention it was in the brides backyard. www.bridalshoot.com Charlotte wedding photographers in North Carolina to learn about our style of wedding photography and how as North Carolina wedding photographers in Charlotte we are able to take the best wedding photos during, before, and after any storm.